On September 13, the representatives of the fifteen PAVM Chapters present in North America, together with representatives of our PAVM Vatican Office and the North American Service Office gathered at the Mayflower in Washington D.C. Events took place across a three-day meeting to discuss Vatican Patrons' mission and legacy, kindly hosted by CEM and Judy Martin.
Right - Fr. Kevin, Director Babara Jatta, CEM and Judy Martin.
Left - Fr. Kevin Lixey L.C. giving his presentation.
In celebration of the extraordinary loan of Leonardo da Vinci's painting Saint Jerome Praying in the Wildnerness to The Met, on Friday, September 20, Barbara Jatta, Director of the Vatican Museums, explored the history of the Vatican Museums, the intriguing story of the recovery of the da Vinci painting, and a bright future between the Vatican Museums and the Met.
After the conference, His Eminence Cardinal Dolan hosted a reception at his residence to celebrate the role of the Partrons of the Arts in the Vatican Museums in preserving a unique art collection, and their commitment to sharing their mission internationally.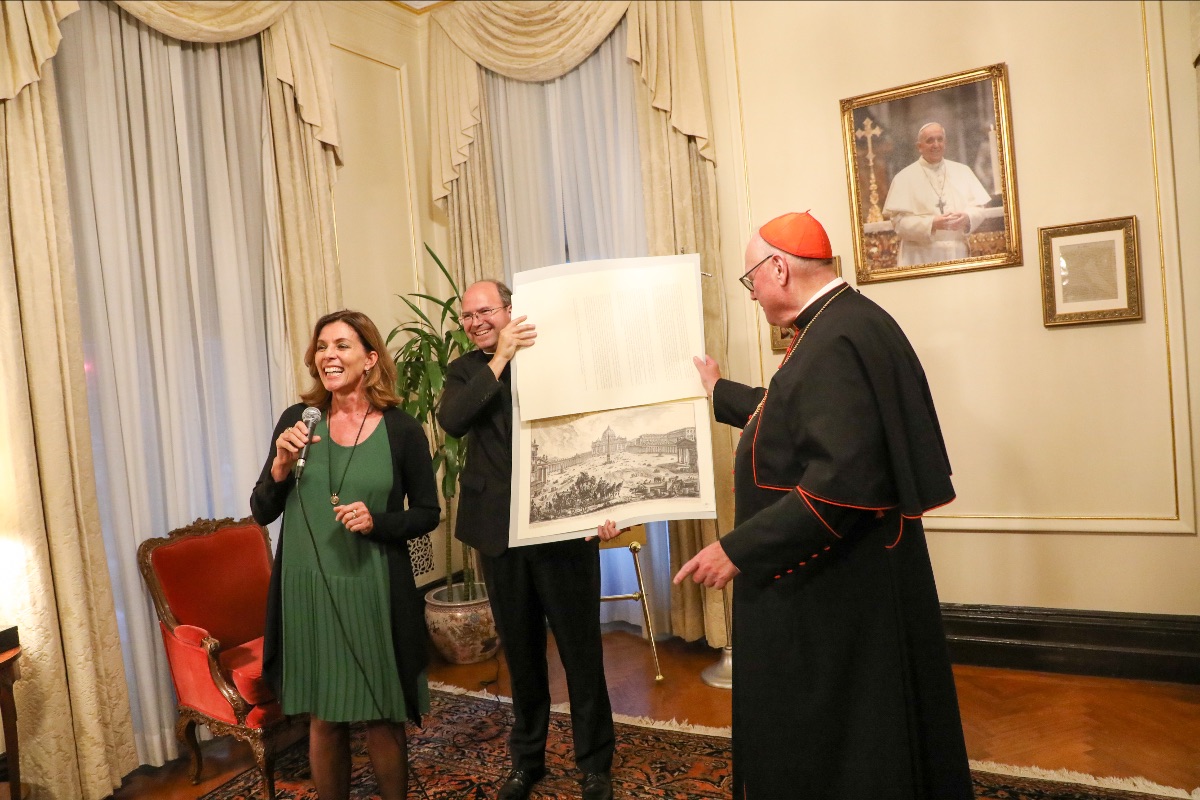 Fr. Kevin Lixey, L.C. and Director Barbara Jatta gifting the Cardinal
a print from the Vatican Library.
Upper left: Cardinal Timothy Dolan and Fr. Kevin Lixey, L.C.
Lower left: from the left, Gregory Houssani (NY Chapter),
Director Barbara Jatta, Donna D'Urso (NY Chapter Leader) and Mrs. Ruth Woolard.

Upper right: from the left Donna D'Urso, Director Barbara Jatta, Fr. Kevin Lixey L.C.
Lower right: Fr. Kevin Lixey L.C. and Fr. Paul Tabor with two guests.