Dear Patrons and Friends,

Thanks to your generous support, and the dedicated work of our restorers, we are now bringing phase three to a close of this four phase restoration. In other words: three walls down, one wall to go! Upon tackling the monumental project of restoring the Bramante Courtyard, restorers took the time to conduct detailed research and perform an extensive investigation to return the travertine walls to their definitive milky white color. Nevertheless the fourth and last phase is a bit more complex and elaborate than the other phases as it includes structural changes to the roof and a new lighting system and other aesthetic improvements.

In the video below, Fr. Kevin shares a restoration and financial update about the Bramante Courtyard
How do we keep our mission alive
in the midst of the global pandemic?

By bringing the beauty of the Vatican Collection and sacred art to you virtually, as well as the fascinating discoveries of the restoration laboratories.
Check out our PAVM Insiders course

Additionally, many PAVM Chapters around the globe are choosing to go virtual as well.
---
ILLINOIS CHAPTER
The Illinois Chapter is sponsoring a five-lecture program called Rosa Mystica which is a visual and spiritual journey, bringing forward the tradition of Marian art as a resource for our contemporary challenges.
As part of the Rosa Mystica series, the Illinois Patrons will be restoring The Annunciation. This painting is believed to be from the 16th century School of Ghirlandaio in Florence, Italy. We will use the painting to highlight the techniques of restoration and its importance for art and the role it can play in faith formation.
REGISTER HERE or
FIND OUT MORE ON THE ILLINOIS PAVM WEBSITE
---
ASIA CHAPTER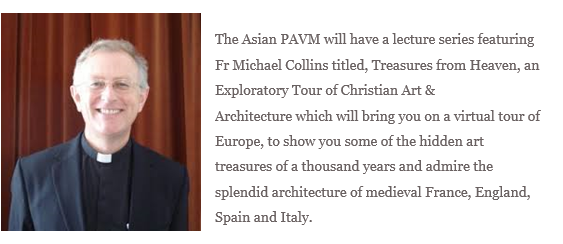 REGISTER HERE or
FIND OUT MORE ON THE ASIA PAVM WEBSITE