Greetings Patrons and Friends,

Despite everything that happened in the last year our restorers were able to continue you their work thanks to our patrons support, as was the case with the colossal restoration of the "Blinding of Elymas", Raphael tapestry. The Michigan Chapter adopted this multi-year project. To celebrate its completion, our Web designer, Chiara Lorenzetti, included a unique feature on our website so that when the mouse scrolls over the image, it shows the before and after image!
Take a look at some of our recent website updates.
Here the before and after pictures in details.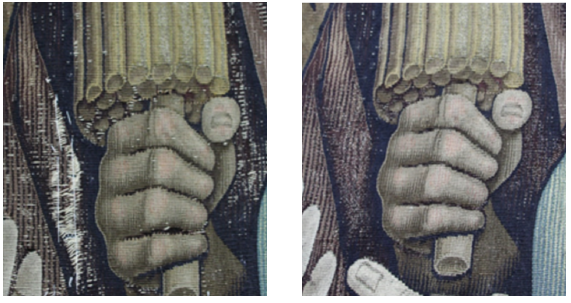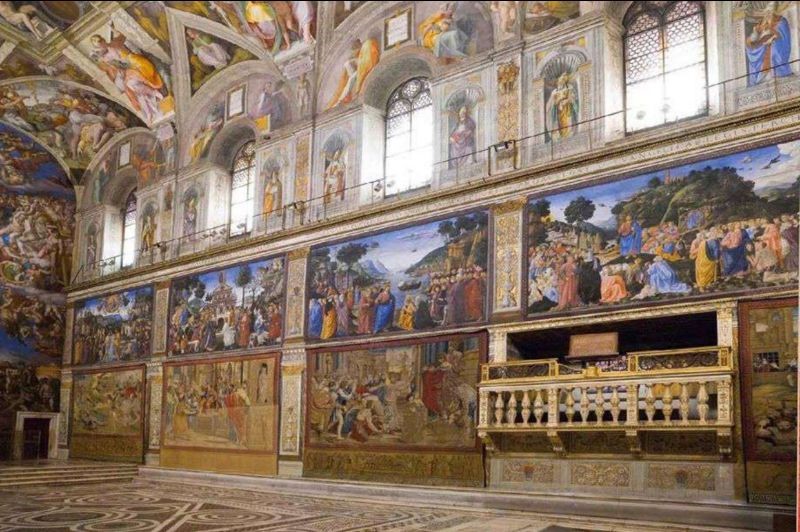 During the week of February 17-22 2020, the tapestries of the entire series of Raphael's Acts of the Apostles were exhibited in the Sistine Chapel to celebrate the 500th anniversary of the death of the Urbinate artist. The tapestry depicting the "Blinding of Elymas" as part of the prestigious series was exhibited together with the other tapestries.
At the end of the exhibition, the tapestry was repositioned on the restoration frame in order to proceed with the consolidation.
CLICK HERE to learn more about last year exhibition.
---
Presentation of Preventive Conservation
in Major Museums
By Sophia Spralja
---
Preventive Conservation in Major Museums is a 2021 publication that includes comparisons, reflections, and strategies on preventive conservation (practices) from directors of the world's top leading museums. They all share the responsibility of conservation and this publication is a continuation of a previous conference which took place on October 12th, 2018.

The issues discussed at the conference and written in the publication reflect the general mission of the Patrons of the Arts in the Vatican Museums (PAVM). Patron generosity and the work of the PAVM staff are integral to the operations of the Vatican Museums. Their contributions to conservation are among the many hallways, galleries, gardens, courtyards, and stairways. A passion for the survival of art, culture, history, and heritage unites all contributors and collaborators. Patrons' interest stems from their PAVM membership. The PAVM warmly welcomes the keen interest and participation of all patrons and would like to offer them the opportunity to explore behind the scenes of a centuries-old cultural institution.

READ MORE ON OUR WEBSITE