Carriage Museum Entrance Project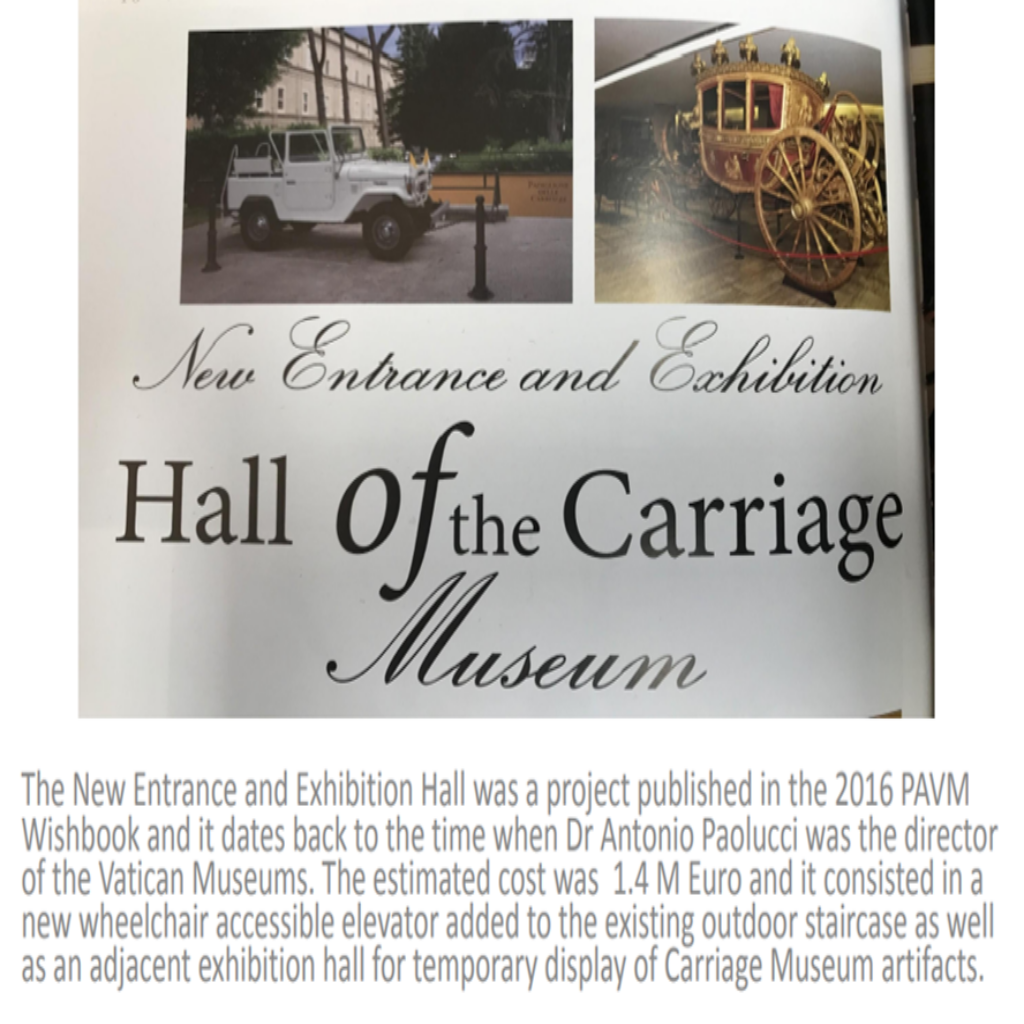 FINAL OUTCOME – A SIMPLER ENTRANCE WITH A HANDICAPPED UTILITY ELEVATOR WAS EVENTUALLY COMPLETED IN THE SPRING OF 2021.

The Carriage Museum Entrance Project was entrusted to the "Technical Service" department of the Vatican City which oversees all their construction projects. The project was delayed, as preference moved to the Bramante Courtyard restoration, the scaffold remounting at the Holy Stairs, and the Anima Mundi project, which were already underway. Once the technical team had finished its feasibility study for laying the foundational support in this part of the Vatican Gardens for this 475 square meter structure that would need to support the weight of automobiles, the decision was made to redimension the project, and the temporary exhibition space. After further delays in communicating this definitive design to PAVM, the project finally broke ground in 2020 and the new entrance with a handicapped utility elevator was eventually installed and finished in the spring of 2021.
CARRIAGE MUSEUM ENTRANCE PROJECT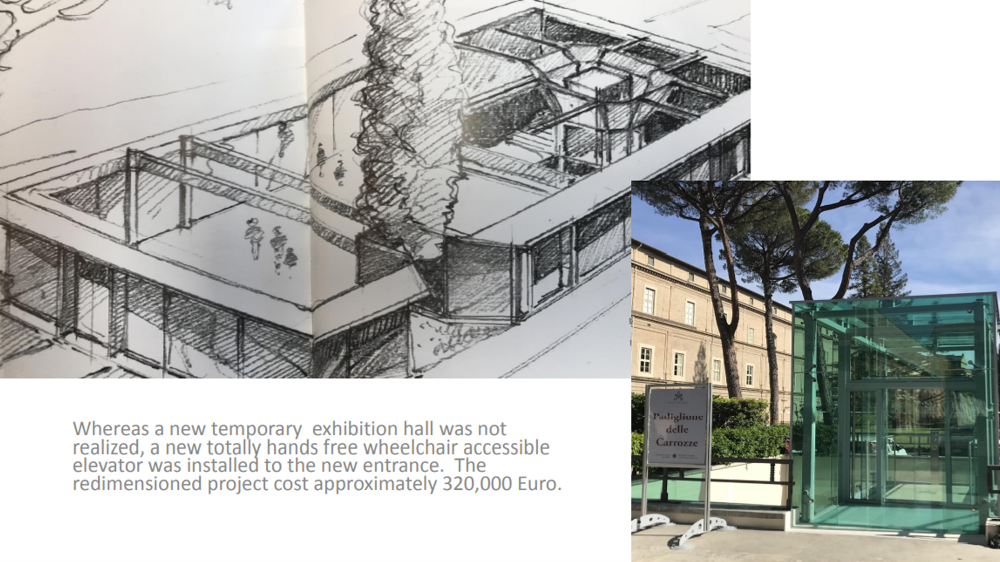 NEW CARRIAGE MUSEUM ENTRANCE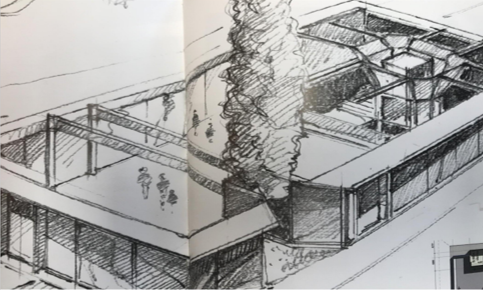 CARRIAGE MUSEUM – APAVM CONTRIBUTION
APAVM made the following contributions towards the Carriage Museum:
Transfer Date
SGD
EURO
23 Dec 2016
364,790
239,412
8 Jan 2018
110,000
68,336
28 Sept 2018
176,210
109,964
TOTAL
651,000
€417,712
The final costs of the Carriage Museum Entrance was about €320,000.
APAVM Board agreed to donate the remainder €100,000 to the Holy Stairs Project.
HOLY STAIRS PROJECT – €100,000 Contribution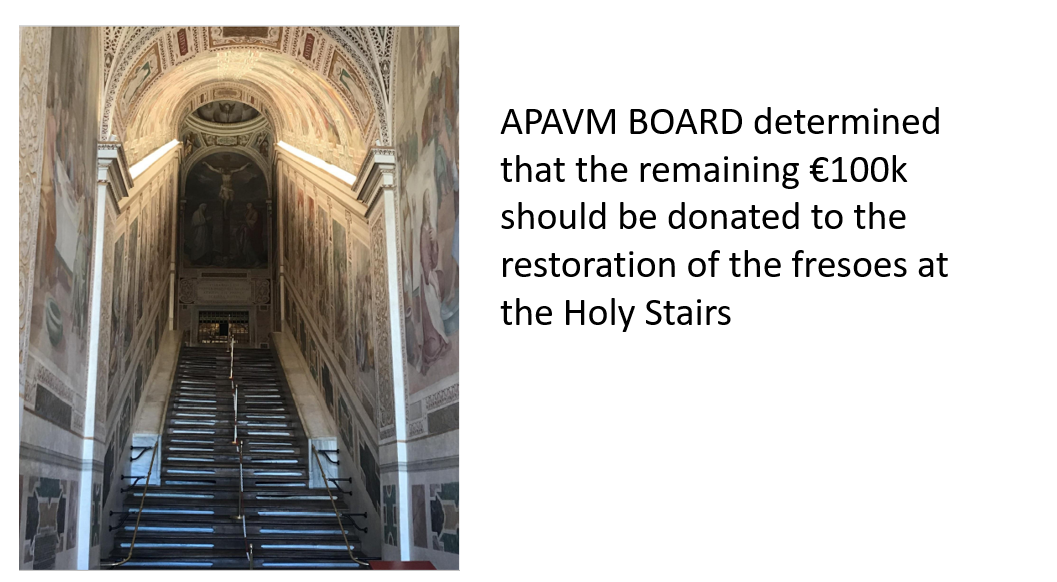 HOLY STAIRS PROJECT – ASIA CHAPTER RECOGNIZED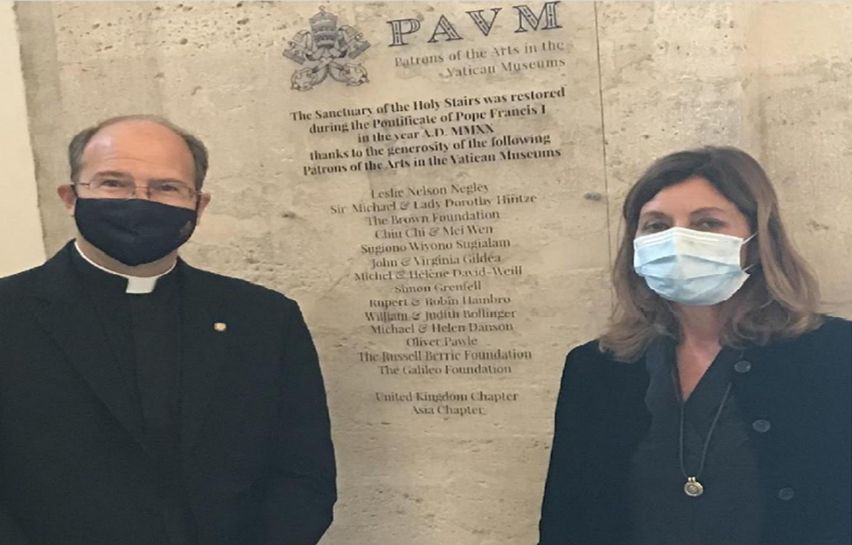 Period: 2016 – 2018
Duration: 3 Years
Cost of Restoration: SGD 2,000,000