HELP US KEEP OUR MISSION ALIVE
The paintings were meant to be unveiled on April 20th during an international conference to celebrate the 500th anniversary of Raphael's death.
Due to the coronavirus emergency, the event was cancelled therefore we did not receive the chance to share this special and historical moment with our Patrons as we removed the canvases on Wednesday, May 13th, in the presence of the director of the Vatican Museums, Barbara Jatta, and Patron of the Arts in the Vatican Museums Director Father Kevin Lixey. As we await to celebrate this magnificent restoration in person, we would like to share a video we produced that displays the exciting restoration discoveries dedicated to the Year of Raphael.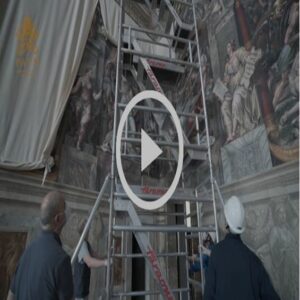 In 2015, the fourth and largest of the Raphael Rooms, the Room of Constantine, underwent restoration. Our incredibly generous donors from New York, Eileen and Robert Carlson, left a sizable bequest to support the needs of the Vatican Museum. A portion of this bequest was allocated to fund the restoration of the Room of Constantine supervised by Fabio Piacentini.
It is extremely inspiring to witness the return of our restorers as it keeps the hope of our mission alive. We know that the recent fruits of their magnificent restoration work, whether it be phase three of the Bramante Courtyard or the recently unveiled Room of Constantine, will one day be available for our patrons and public to admire and enjoy on-site and in person!
Until then, in this time of crisis with our doors still closed, I invite you to consider sustaining the work of our restorers with a special gift today.  More details about making a donation to this emergency restoration fund can be found in this PDF.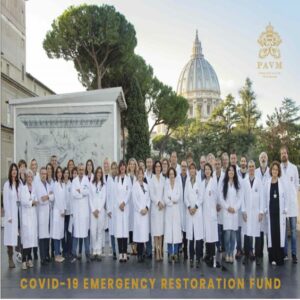 EVEN IN A CRISIS, THEIR CAREFUL
WORK OF CONSERVATION
WILL CONTINUE WITH YOUR HELP…