Dear Patrons and friends,priceless cultural and universal heritage stored in the Vatican Museums. We will travel the world thanks to the projects you, our Patrons, adopted. From Russia to St. Mary Major and the Lateran Baptistery in Rome, we travel through history to make the history of art restoration.

Our February e-parcel is full of news about how the work of the restoration laboratories contributes to our office mission: to protect, preserve and restore the
37 CASTS OF MOSAICSfrom St. Mary Major and the Lateran Baptistery RESTORATION UPDATE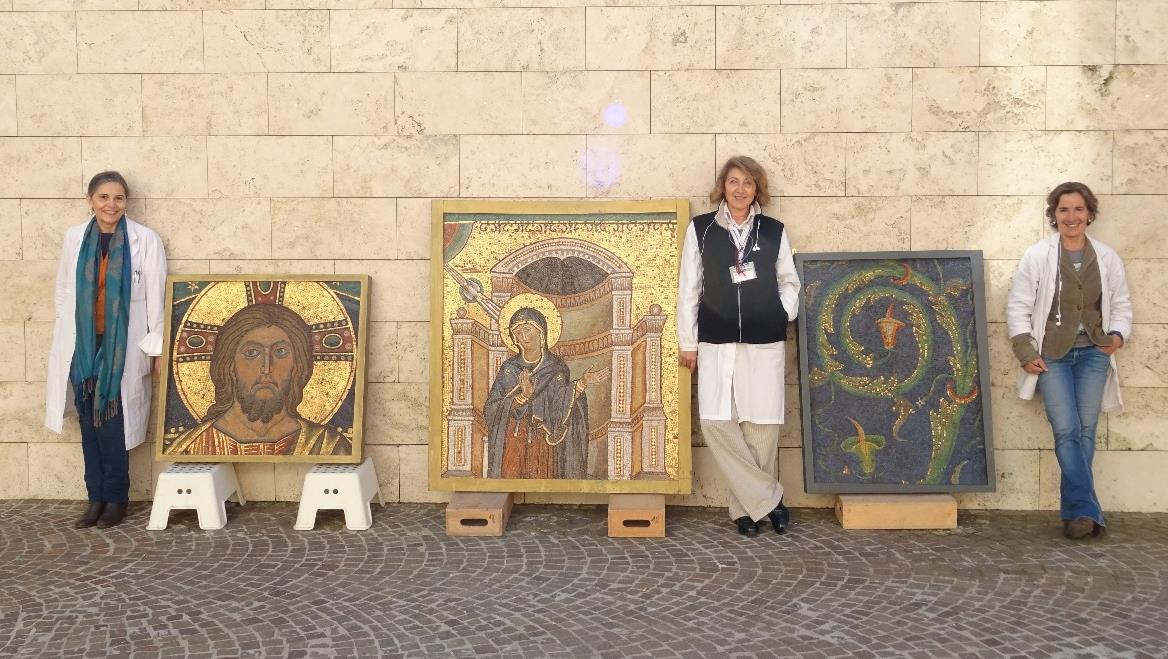 Restorers Michela Gottardo, Patrizia Rossi, and Anna Lea Mattozzi

from the Stone Materials Lab with three of the restored mosaic casts

Many of the mosaics were in a poor state of preservation. The intervention included detailed mapping of the deterioration and the reproduction of all the detached parts. Restorers Michela Gottardo, Patrizia Rossi, and Anna Lea Mattozzi from the Stone Materials Lab verified the functionality of the structures and the current restoration work, which is still in progress. The restoration plan includes the classic processes that take place in paintings, namely consolidating, cleaning, plastering, reintegration, and varnishing. Most casts have now been restored, and a few others are still under

the attentive care of Vatican Museums' restorers.
FOUR RUSSIANS ICONS
RESTORATION UPDATE
The restoration project for the Russian icons from the Vatican Museums Collection has been underway for several years. Some icons are displayed in the Museums' halls, others in Pinacoteca's works warehouse. The restoration allows historians and curators to deepen the study of execution techniques and determine the dating and provenance with more accuracy while also updating the works' files.

The intervention is being conducted in an interdisciplinary way between the Painting and Wood Lab, the Metal and Ceramic Lab, and the Scientific Research Lab coordinated by the Department for Byzantine-Medieval Art. The Photographic Lab of the Vatican Museums is carefully documenting all work phases.
| | | |
| --- | --- | --- |
| The Face of Christ With "Fiery Eyes"  | | Icon of the Dormition of the Virgin |
| | | |
| --- | --- | --- |
| Icon of the "Holy Trinity with the Twelve Feasts" | | Icon, Triptych: Madonna and Child, so-called "Virgin of The Sign" with Saints Peter and Paul and two Angels |