Greetings Patrons and Friends,
Yesterday was the feast day of St. Thomas Aquinas, considered one of the Catholic Church's greatest theologians. In the fresco painting  in the Gallery of the Candelabra in the Vatican Museums, we see  St. Thomas kneeling as he offers his works, and the response from God in the words: BENE SCRIPSISTI DE ME THOMA: "You wrote well of me, Thomas".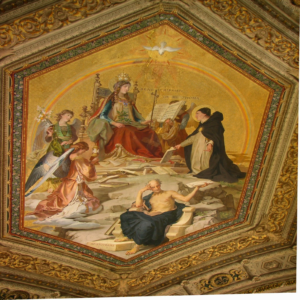 (Ludwig Seitz 1844-1908) 
The January cover of Magnificat features another painting in the Vatican of St Thomas. This one is by the domenican artist Fra Angelico and it is in the Niccoline Chapel. 
---
INSIDERS COURSE – SEMESTER 2
---
Have you seen the Niccoline Chapel? Well now is your chance! The first episode of the second semester will take you into the private chapel painted by Fra Angelico himself. This is an extremely rare opportunity to gain access to one of the most exclusive and off-limits room of the Vatican Museums and Apostolic Palace. You most certainly will not want to miss out! In fact, it's not too late to register. Over 165 Patrons are already participating and enjoying our content. If you would like to sign up for our Insiders Course and be part of this lively community, please click here
To promote the second semester, we created a short trailer.
Please share it with a friend.
We look forward to having you join us on this behind the scenes journey of the Vatican Museums collection!